Cold Brew Competitions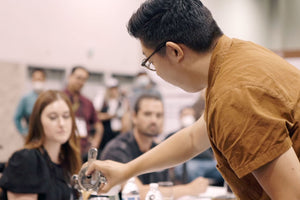 We partner with Coffee Fest to put on every U.S. Cold Brew Championship event at all Coffee Fest events. 
The goal of the competition is to create an atmosphere where competitors can continue to elevate the craft of cold brew. We started ALTO with that same vision in mind: that the average consumer faces too many problems while brewing coldbrew simply. Whether it is the lack of clarity in the taste (stemming from brewing with residual oils on old mesh bags, broken down paper or bacteria laden coffee socks) or the mess of ripped paper filters, ALTO aims to make brewing process seamless so that you can focus on the actual craft of cold brew. 
Here's a full playlist of past competitors and their presentations. Select few:
Hara Kumaran from Metric Coffee
Michael Timlin from Double Barrel Roasters:
Here's a recap of our event in Anaheim from the competitor standpoint: